Culligan Connect App
Control your water anytime, anywhere!
The Culligan Wi-Fi Accessory
Introducing the Culligan Connect™ app - delivering real time information, peace of mind and 24/7 support from your Culligan Man.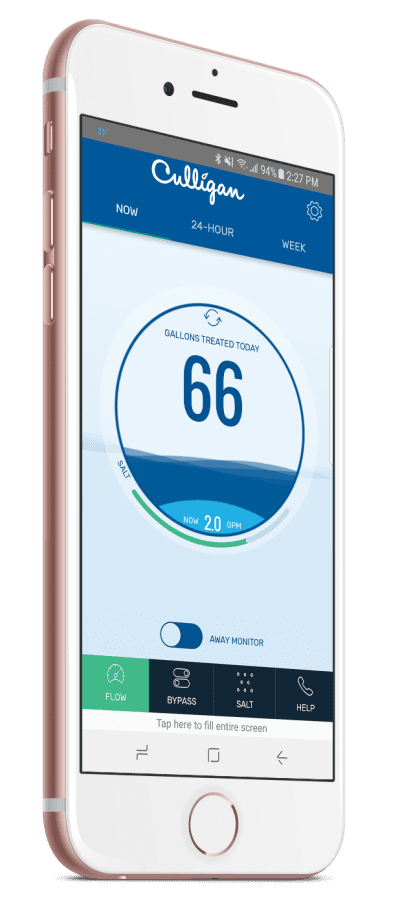 The Culligan Connect app is the latest innovation for High Efficiency Water Softeners and Reverse Osmosis Drinking Water Systems, making it more convenient for users to optimize performance and maximize efficiency of their Culligan equipment.
Why upgrade to Culligan Connect technology?
It saves you time - The Culligan Connect app home screen displays flow rates, water usage, salt levels and filter life in one easy-to-read format. It additionally provides 24/7 support to take the time out of service requests and troubleshooting.
It saves you money - The Culligan Connect app's bypass option saves you money on salt by only softening your water when needed. The app also lets you more closely track your water usage to give you the insight needed to cut back on water waste and lower your bills.
It saves you worry - The Culligan Connect app's away monitoring alerts you to any unexpected changes in flow while you're away and sends you notifications when your salt levels are running low or you need to replace a filter cartridge.
The Culligan Connect app is available to download for iOS and Android devices. It is compatible with new and existing High Efficiency Water Softeners and Reverse Osmosis Drinking Water Systems from Culligan.
Latest
Blog Posts
If you don't know what's in your water, you won't know everything a water treatment system can offer you. Schedule
Give the gift of great-tasting, high-quality water this year! Get started with a free water test from your local Culligan
We recently purchase a used hot tub from someone locally, originally purchased from Culligan in Grande Prairie. We thought about buying new but wanted to be sure about owning a hot tub before spending the money. When we purchased we went into Culligan for some advice on chemicals etc. We had amazing service! They were extremely knowledgeable and helpful even though we didn't purchase directly from them. We have reached out to them in two that separate occasions and the service and knowledge was outstanding. We love our purchase and will definitely be buying from them when we are ready to buy new.

Danielle Schmidt
- Culligan Customer